We're all broadcasters now, aren't we? 
So as we all realise it's time to get to grips with with Zoom, Teams and Skype, let me offer the first in a series of tips based on my thirty year career as a BBC newsreader and reporter.
I'm hoping it may help you perform on webcam a little more professionally than (whisper it) your business rivals. 
I'm still broadcasting the news — we're deemed key workers, so I'm on air this evening.  
But this morning, I've been reflecting on what I've learnt during a career spent sitting or standing in front of a camera, judging when to speak and when to keep quiet (while still looking interested) … measuring what to say, and what to leave out … choosing the best moment to respond to what's just been said … at all times, very very aware that I'm on air.
Above all, I've aimed to look professional and vaguely in control of the situation, no matter what may have been going on behind the scenes. 
1   DISTRACTIONS:  background noise (and I don't mean sound)
Fashions come and go in news studios, but we seem recently to have settled on a belief that if there's too much going on in the background, the audience will be distracted.  
Zoom has a setting where you can choose a neutral scene, or perhaps upload your logo.  Teams enables you to blur out your background altogether.    They're good ways to ensure that people focus on the thought emerging from your mouth, rather than the orchid emerging from your head, or what a peek into your home reveals.  
I watched a presentation the other day that was very engaging, but I missed a good couple of minutes of it because I was so fascinated by the framed list of witticisms hanging centre-stage over the mantlepiece. 
2   LIGHTING:  let there be some  
A brief story here:  I'll never forget the day I excitedly showed my dad around a BBC studio, quite sure he'd be as fascinated as I was by the snazzy desk, the gleaming autocue and the sheer Tardis magic that makes a TV studio appear so much larger than it is in reality.  
Instead, he glanced around, up, down and said "Well, Johnnie, there are an awful lot of LIGHTS …"
Since then, several other visitors have let me down in the same way.  But it's true.  There's an aircraft hangar's worth of lights slung at different angles from news studio ceilings, and they're there for a reason.  Viewers want to make eye contact with the presenters. 
The good news for us sitting at our laptops for an online conversation is that we don't need to sling up a dozen lights to make ourselves look presentable on a webcam.  But it is worth giving this a moment's thought.  If the camera's facing a bright window, you'll be a silhouette.  If you're facing a bright window, you'll let Mother Nature do your lighting for you.  If it's an evening broadcast, experiment with an angle-poise lamp.  
3  BODY LANGUAGE:  smile … nod … engage
Okay, so you don't want to sit there with a frozen grin on your face for 45 minutes or longer — you may do yourself a facial injury if you try.  But when you hear a well made point, or somebody addresses you directly, a smile is the signal that you're engaged.  
And don't feel awkward exaggerating it ever so slightly, perhaps adding a nod.  In news studios, the presenters' gestures tend to be about ten percent more animated than they might be in person.  I don't think it's an affectation.  It's an instinct to compensate for the fact that the person you're talking to isn't actually there. 
4  GET ATTENTION!  hands up if you want to know how … 
One of the most interesting part of fronting a news programme with a co-presenter is the need to read each other's body language, especially when you're both interviewing one guest.  
Think of the One Show, BBC Breakfast or Good Morning Britain.  Watch closely.  You may spot that subtle ways in which the presenters do this, out of camera shot — gently touching their co-presenter's side, perhaps, or moving their head briskly to meet the fellow presenter's eyeline.   They're indicating: "I'll speak when you're finished …"  
The equivalent in a webcam scenario, I think, is to put your hand up.  The host should be looking out for this, and a good host will have explained at at the beginning of the session that it's the accepted signal to keep the conversation flowing.  
5  TIME, ladies and gentlemen, please …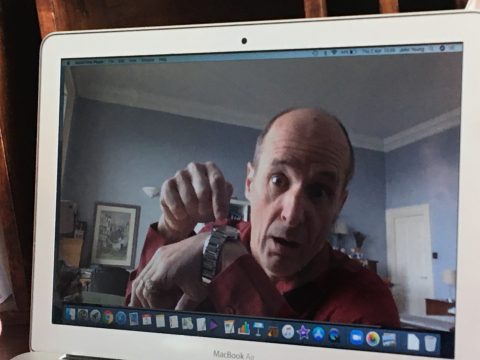 You may have noticed that TV bulletins generally start on the hour, or on the half hour.  They end at a fixed time, too.  This means, of course, that the presenters, directors, producers and engineers are all in place well beforehand to sort out the myriad of things that need to be sorted out before going live. 
If you're joining a conference call, I'd suggest you arrive at least five minutes early to get the tech in place.  (I was nearly caught out the other day when I realised the event was on a different platform altogether, and I had to do a hasty download.)  If you're hosting it, I'd suggest arriving even earlier, especially if (as in my case) there are a lot of moving parts in the workshop you're about to run. 
And finally — as a host, tell everyone at the beginning how long the session is going to be, and stick to it.  I take much delight in revealing (in my Secret Life of a News Bulletin keynote/webinar) how tightly timed our news bulletins are … quite literally, to the second.  If we over-run by ten seconds, that's ten seconds of the One Show that viewers won't see.  It's not career-enhancing. 
I don't suggest you're that strict.  But if your 45 minute webinar for 30 people rumbles on to 55 minutes, then that's five business hours you've soaked up … not to mention the late arrivals you might have caused for the next webinar a participant may be booked on. 
On which note, it's time to end this broadcast, prepare for tonight's, and wish you well as you step into your very own studio.  
You might find, as I did when I began my career, that it's easier than you think — and quite a lot of fun.  
---
If you'd like more advice on making a good impression in a web based meeting — or more general tips for your staff on being as agile as a journalist on a lunchtime bulletin on a very very busy news day — get in touch to discuss how I can deliver it to you online.  
While we're all getting through this, it's free. 
---
ANSWERS TO PHOTO-QUIZ:  in second photo …
I'm trying to look engaged rather than bored
I've nudged my laptop to make my face larger and more central in frame
I've removed the distracting Golden Hind my father built as a schoolboy in 1937
I'm wearing a collared shirt, as I would for work
look close, and you may notice I've had a shave, too.
---