Saturday night is gin and tonic night in my household, sometimes followed by a takeaway.  In recent weeks it's been accompanied by Ant & Dec's joyous Saturday Night Takeaway on ITV.
And last week, the penny dropped.  I realised that Britain's cheekiest chappy entertainers were delivering, in plain sight, some solutions to one of the the post Covid workplace's most compelling challenges.  
How do you command an audience that is both down a lens, and seated in front of you?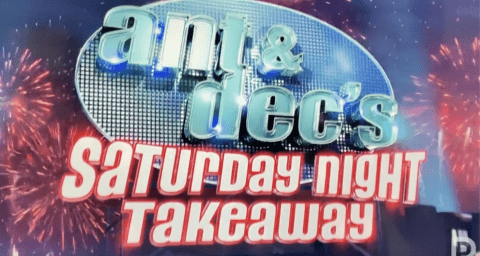 Only a week earlier, I'd been discussing this very problem with the Head of Internal Comms at a large travel tech company as I prepared a new workshop that will provide some answers. 
Her company were doing what so many are now doing: holding hybrid meetings and Town Hall style events.  Much of the audience would be virtual alone at home, some would be virtual but gathered together in one meeting room, while others would in fact be in the conference room at HQ sitting in front of her. 
Later that week, two G&Ts in, I'd made a few observations … and now present them to you as what I hope are five practical suggestions, based on a detailed analysis of the first twenty minutes of Ant & Dec's life-affirming programme on ITV Saturday April 9.
1.    Planned Activities that Engage Both Audiences
The show's format is carefully created for the era of laptop lenses, with game after game involving both people in the audience, and people at home.  'Ring My Bell' is a delightful example.  
A member of the audience in the studio suddenly sees the view from their own door-cam appear on the screen.  It's all been set up in secret in advance, of course.  Cue shrieking and excitement.  The challenge is for a viewer, who lives near that doorbell, to be the first to rush to it and ring the bell.  Cue further shrieking, excitement, and £500 prizes all round. 
I'm not suggesting anything so elaborate or hilarious next time you're announcing the Quarterly Budget to your staff.  But how could you break your own event down into clear segments, featuring an activity that is deliberately constructed to require input from both people in front of you, and sitting at home? 
2.   Verbal Cues for Both Audiences
This technique so simple it's easy to miss it.  Ant & Dec simply use verbal cues to ensure both sections of the audience — those at home, and those in the studio — are fully engaged.  
They literally say "Standby in the studio!" and "You at Home!" when it's time for engagment.  Nobody is left in any doubt when they're going to be involved.  
As the Chair of a meeting, don't be afraid to spell out which audience you want to focus on at which point.  It reassures both audiences that they haven't been forgotten.
3.   Body Language that Acknowledges Both Audiences 
This approach is just as easy for you to adopt.   When Ant & Dec are addressing us at home, they look 'straight down the barrel' — a TV phrase for making firm eye contact with the lens of the camera.  
When they are addressing the audience, they physically move their shoulders, head and eyes, looking away from us and towards the people seated in front of them.  
It's quick, it's subtle, it's entirely natural — and as a result nobody in either audience feels affronted or disengaged. 
4.   Alternating Events for Both Audiences
Think about the way in which Ant & Dec's producers have structured their show. 
It's broken down into a series of bitesize moments that keep up the pace, each clearly signposted and signalled as the audience moves from 'Ring My Bell' to 'Happiest Minute of the Week' to 'I'm a Celebrity Get Out of My Ear."  (Yes, truly.)
If you've read this far, it's probably because you care about these things, so you probably realise the need to keep the pace up in any of your own meetings, face-to-face or virtual.  
But what is so clever about Ant & Dec's producers' approach, is how they alternate from an event with a focus on the studio audience, to an event with a focus on the audience at home.  
You're only ever a few moments away from Ant & Dec looking you in the eye again. 
5.   The Power of Surprise 
One of Ant & Dec's most powerful tools is that of surprise.  Sitting in the studio audience, any viewer could at any time find that the presenter is grabbing them by the shoulder, calling them by their name, brandishing their Takeaway Getaway holiday prize because they're retiring after 40 years as a nurse. 
A moment later, a viewer slumped on their sofa at home may leap up as they see the presenter looking down that barrel at them, calling their name, and telling them they've won that Takeaway Getaway because they've been caring for an elderly relative for 20 years.
You may well already name check your staff now and again.  But could you go a little further?  Could you give out a few surprise details to celebrate that person sitting in front of you, and swivel your laptop around?  And if that shout-out was to someone sitting at home, could you coax them to switch their camera on and take the praise as you briefly share their story?
————————————
I do realise this is ambitious.  Ant & Dec's Saturday Takeaway is a high energy entertainment show.  Your AGM will be a tougher gig.  Hilarity won't be the order of the day if you're announcing cuts or restructuring.  
But if you acknowledge both audiences throughout, if you plan moments that engage them both, if you keep up the pace — in short, if you produce a little bit of a show — you'll have held your hybrid audience to the end.   My experience as a trainer of BBC journalists, as well as a communications consultant, has persuaded me that it is possible to be both professional and playful.
And whether at the end you simply click LEAVE, or quietly close the conference room door behind you, you'll surely have earned yourself a couple of G&Ts that evening.
---
If this has got you thinking, and you'd like me to help you come up with some ideas that will make your hybrid world more engaging while remaining professional, get in touch!